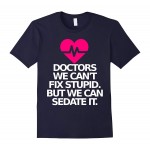 Clothing for Doctors ( Make To Order)
Clothing can be made of textiles, animal skin, or other thin sheets of materials.
This makes an amazing gift for a General Surgeon if you owe your life to your doctor and want to repay him or her with a small gift. Or maybe you have a fun General Surgeon friend who would enjoy this gift.

Refine Search